2018 Student Dux Message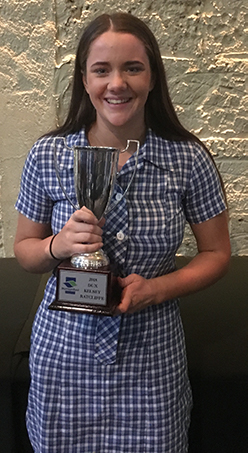 Good evening everyone.
It's hard to find the words to explain how proud, privileged and actually quite surprised I am to be standing here as dux of Warrnambool College. When I got the call from Mr Clift and Hendo letting me know that I had to make a speech, I thought I could take this opportunity to pass on my top 5 tips for the future year 12s here tonight. So…
Start at the start. Get into the habits you want to continue straight away, or else honey you've got a big storm comin'.
Have a life. You can have fun and work exceptionally hard at the same time. I utilised my time at school really well and this enabled me to play hockey in Melbourne every week, work part time, and have a social life.
Make your stress positive stress (thank you psychology for teaching me this one). Stress can make you perform your best, for example motivating you to study for a SAC. But it can also be overwhelming. I did get quite sick of everyone saying this, but it's true your ATAR doesn't define you, unless you want it to. I'm not saying don't try your hardest, but I am saying that you don't need to completely stress yourself out in order to do well.
A bit of friendly competition never hurts. Find what motivates you. After all year 12 is a competition, and I happened to beat my sister by 1 point.
"Sorry I have a sac the next day" is the best excuse to get you out of anything. Take advantage of that one while you can.
But most of all, don't let the stress of year 12 cause you to miss all of the little things that make it such a fantastic year. Work hard, its only 10 months of your life, give it your best shot and you'll have no regrets. Enjoy the 18ths, the dress up days, the common room, the toasted sangaz every day and being the biggest in the school.
I'd like to thank Hendo, Collie, Ms Hulin, Struthy, Dowie, Ms Skillbeck and Mr Greene. All of your hard work, and late nights spent marking our sacs and practice exams does not go un noticed and I couldn't have done it without you all. I hope to become a secondary teacher myself one day and you have been amazing role models. And another shout out to Hendo, Kim and those behind the scenes for allowing this year to run so smoothly.
And of course, I would like to thank my amazing family. For supporting me with everything – my schooling, sporting and whichever career path I may choose. I am so happy that I have made you extremely proud.
I would also like to thank my fellow year 12's. I know not everyone can be here tonight, but as a SEALPY from the year level below, you guys made it a much easier transition for me back in year 10 and I am so grateful to be a part of the class of 2018. I wish you all good luck for whatever the future holds.
Thank you.
-Kelsey Ratcliffe