Instrumental Music Information
If your child has expressed interest in learning a musical instrument in 2023, we have a number of instruments available for hire and tuition.
During Term 1, hire and tuition is free of charge for Year 7s. Learning a musical instrument is a great way to meet a range of students from a number of different year levels, develop leadership, teamwork skills as well as learning a new skill.
It is expected that once students reach an appropriate level (usually after 8 months - 1 year of lessons) that students learning an instrument commit to playing in the Junior Concert Band, which rehearses once a week. Students in the Junior Concert Band have the opportunity to meet new friends, learn how to play great music with other instrumentalists and perform for the school and the wider community, as well as the chance to go on our annual Music Tour/Retreat!
Voice lessons come with an expectation to contribute in the Warrnambool College choir and/or participate in the yearly College production. The choir rehearses one lunchtime a week and performs at many events such as the Warrnambool Eisteddfod and St Brigids 15 Mins of Fame (Crossley).
Students interested in any of instruments listed can fill out a 'Learn a musical instrument form' and return to the front office or music department. 
You can email questions to Band/Instrumental Director, This email address is being protected from spambots. You need JavaScript enabled to view it.. Each student will be given the opportunity to try all of the musical instruments that are taught and we hope that this will enable your child to make a suitable choice of instrument. We allow students to change instruments (where possible) however, after Term 1 all students need to be aware that Instrumental music is a subject and is assessed and reported like any other.
Tuition Available For
Instrument Hire Fee
Hire of a musical instrument is $200 per year. Many music companies offer a rent to buy plan that enable students to pay off an instrument over time. As our demand for instruments always exceeds supply, this may be a good investment for some families, especially as the student moves towards middle-late years of their secondary schooling.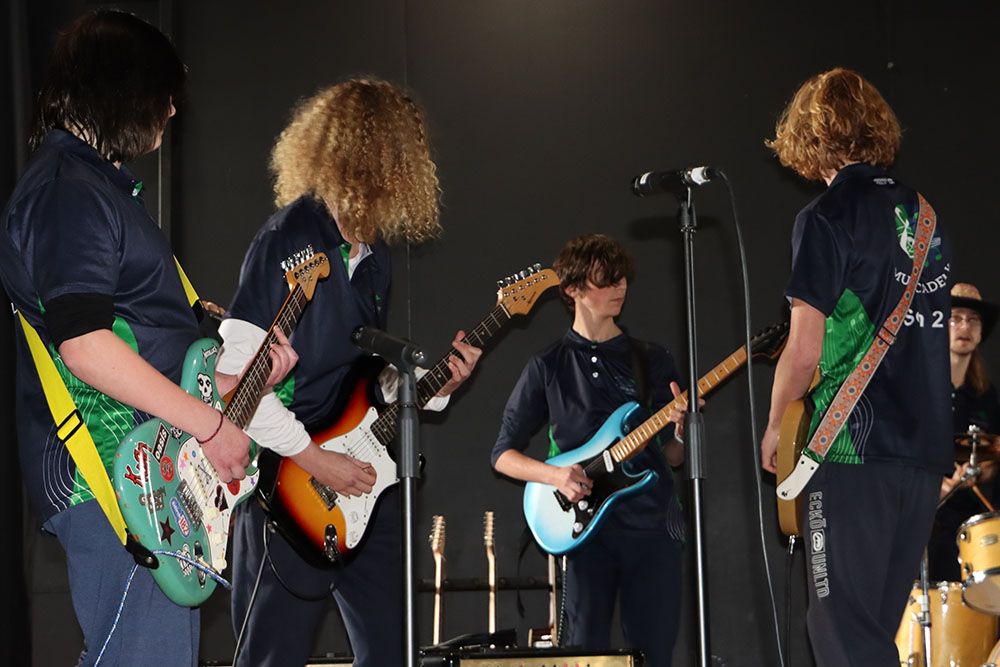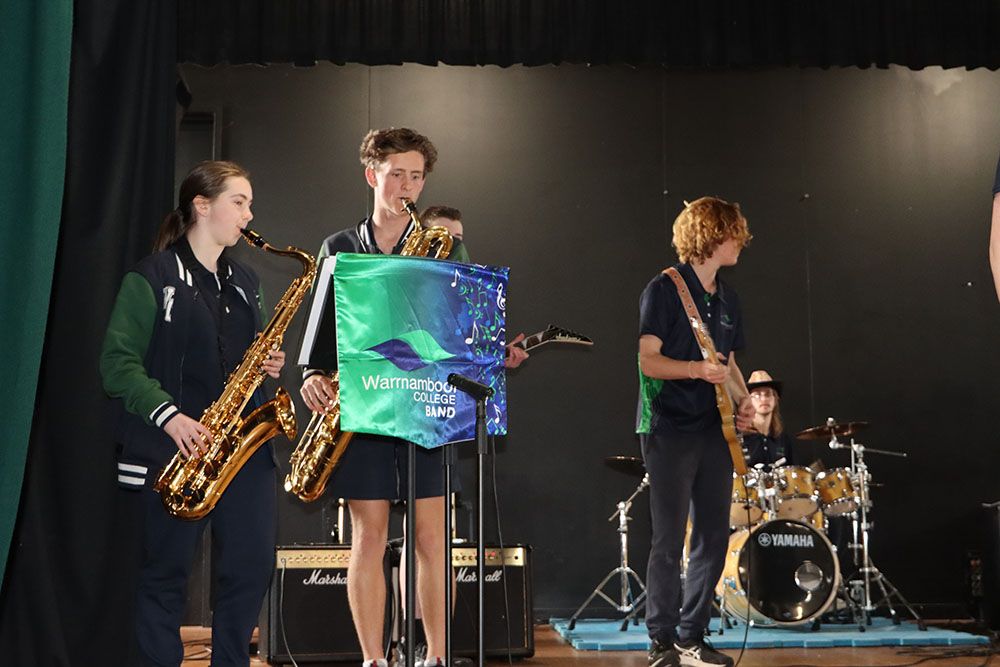 Bands and Ensembles
Joining a band is fun and a valuable way to teach team work and leadership skills. It provides students with an opportunity to hear other students play and accelerates the learning process on the instruments. All students who hire a musical instrument or undertake lessons at the College are expected to join one of the College Bands. Students will have the opportunity to perform in concerts and competitions, attend social activities and represent the College at official school functions.
If you are learning a musical instrument outside of school you are still welcome to join one of these bands. 
Auditions for the rock bands and the soul band happen early in Term 1. The College Choir is open to anyone interested in singing, not just for those enrolled in vocal lessons! Any questions about instrumental lessons, choir, concert bands, musical band or ensembles can be directed to Erin Toulmin (This email address is being protected from spambots. You need JavaScript enabled to view it.)
Band/Lesson Fees
After Term 1 a fee of $115 for the year applies for all Year 7 students who are learning a band instrument. All students who are taking lessons are expected to take part in a band once they feel ready. This also applies for year 7 students receiving vocal lessons, $115 after Term 1 and involvement in the College Choir. This amount can be paid in full or arrangements can be made to pay in instalments. Please contact Mrs Alannah Clifford in the office if you are experiencing difficulties. This amount covers the purchase of new music, excursion costs, instrument maintenance and other band/choir related items.
Therefore if you are in year 7, the band levy that is paid after term 1 ($115 for the year) includes your entry into the band program and your instrumental lessons. If you need to hire an instrument, the hire fee is another $200 per year. For students in year 8-12, the band levy/vocal lesson fee is $230 per year. This is a very reasonable offer as private music lessons usually cost at least $25 each (approx. $200 a term!).
Extra Costs
Some students may elect to sit an AMEB exam, for which the board governing these exams charges a fee. Students who elect to undertake exams will be given detailed information about these costs. Some concerts or competitions and camps may attract a small cost to parents. Advance notice will be given in these situations via a letter home and email.
Lessons
Students are placed in small groups or individually in accordance with their ability. Lessons are timetabled on a rotating basis so that the same class is not missed each week. The lessons are also entered and marked on the School Compass Manager so that teachers, parents and students know when the lesson is.
Parent/Guardian Involvement
Learning a musical instrument can be difficult for some students. If your child experiences frustration or you are concerned about their progress, please feel free to contact your child's instrumental teacher or the Band/Instrumental Director.
The Next Step
If your child would like to learn a musical instrument please complete the application form which can be found at the back of this information booklet or on the College Website, and return it to the Front Office or the Music Department in the Auditorium as soon as possible.
Where possible we endeavour to give students one of their preferences, however, due to the popularity of some instruments and the need to match students' abilities to instruments this is not always possible. Where this is the case students will be notified.
Any further questions can be directed to the Band/Instrumental Director This email address is being protected from spambots. You need JavaScript enabled to view it..