Subscribe To Our Calendars
How to subscribe to our calendar's
IPHONE & IPAD
Copy the appropriate calendar link below.
From the Home screen, tap Settings.
Tap Mail, Contacts, Calendars.
Tap Add Account.
Tap Other.
Tap Add Subscribed Calendar.
Paste in the link you copied in step 1.
Click next.
Description — Change name for your Calendar to display on your phone if you wish.
Tap Save.
Calendar may take a few minutes to sync - It will then appear in your calendars
MAC WITH ICAL
With most new versions of iCal you should be able to just click the appropriate link below to your calendar and iCal will open to ask if you want to subscribe. If this does not happen, please follow these steps:
Copy the appropriate calendar link below.
Open iCal.
Click "calendar > subscribe" from the iCal menu bar.
Paste in the link you copied in step 1.
Press subscribe.
Set auto-refresh to at least every day. If you don't, updates to the calendar will not show up in iCal unless you manually refresh the calendar.
PC WITH MS OUTLOOK
Copy the appropriate calendar link at the bottom of this document.
Open outlook and click on the ""Calendars" tab.
At the top of the screen click on "open calendar" and select "From Internet"

Paste the calendar link in the next window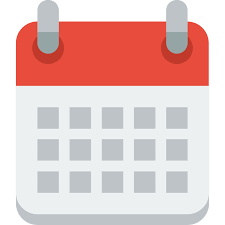 Click "Yes" on the next window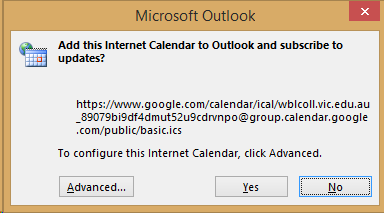 Repeat this process to add any additional calendars to your outlook.
ANDROID DEVICES
To subscribe to the calendar on your Android based phone (e.g. Samsung, HTC), you first need to subscribe to the appropriate calendar in the Google Calendar account that is associated with your phone, using the link below. Since all Android phones need to have an associated Google account, this should not be a problem. Once you have subscribed, the calendar should appear in the native phone calendar application.
Our Calendars
College calendar: https://www.google.com/calendar/ical/calendars%40wblcoll.vic.edu.au/public/basic.ics

VCE assessment calendar: https://www.google.com/calendar/ical/wblcoll.vic.edu.au_jj5d3b7foralmjn4csuhaeaarc%40group.calendar.google.com/public/basic.ics